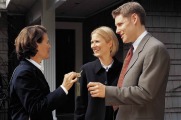 More Leads!  More Clients!  More Closings!
You have made a fantastic decision to join us for this powerful online training event. Chances are good that a big reason you became a real estate agent in the first place was so that you could enjoy your FREEDOM while STILL making a BIG difference in people's lives. This online training is chock full of secrets, strategies, and tactics that are crucial to help you easily add more leads, more clients, and more closings.
The schedule, call-in details, and other important information is heading to your inbox as we speak (so make sure you whitelist Support (at) AgentSuccessSummit.com), but in the meantime, I have more to share.
---